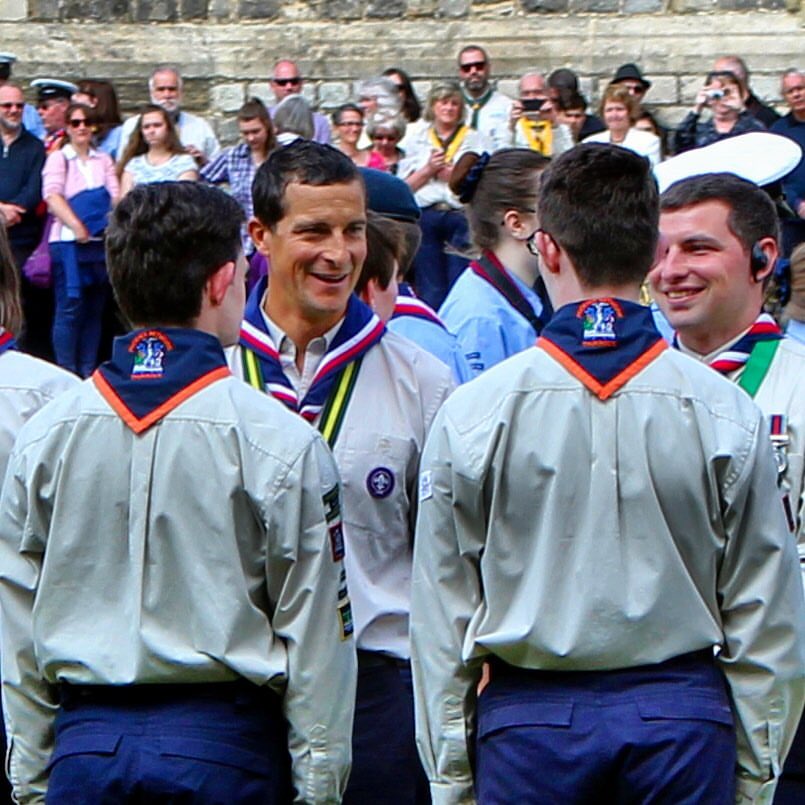 2 weeks ago on St George's day, members of SSAGO headed up to Windsor to receive the highest youth award in Scouting...
Sunday 23rd April saw another St George's Day role around to greet us. With particular importance to The Scout Association, many of our members headed out to partake in parades and ceremonies across the nation. In his book Scouting for Boys, Lord Baden Powell appointed St George as the Patron Saint of Scouts everywhere, explaining that he was typical of what a scout should be thanks to his fearless and bold approach to any challenge that he faced. On the 23rd April each year, scouts up and down the country remind themselves of their promise and law (although these are never to be forgotten!) and of what it means to be a member of scouting.
This year's Saint George's Day was of particular importance to a number of our members as they received the highest youth award in scouting, their Queen Scout Award. This award can be earnt by members of The Scout Association who are aged between 16 and 25 and have been members of explorers or network for at least 18 months. In order to gain the award, members must complete five challenge areas; skill, physical activity, service, expedition, and residential.
Tom Candy, of Southampton commented that he feels "an immense sense of pride in completing the Queen Scout Award and being invited to receive it at Windsor Castle" which he rightly should as he has been working on the award for the last 18 months, and developing his understanding of the scout promise in the process. Henry Hick and Oliver Bills, also from Southampton, were two more of our members who received their awards this year. After discovering Scouting through joining SSAGO, Oli commented on how his life has changed and his confidence grown and the many experiences he has got involved with in order to achieve his award including helping on a SSAGO trip to Slovenia, helping to run a camp in Switzerland, as well as being the Web Team Lead for Essex International Jamboree. Oli was not the only one to be taken abroad by this award, Henry undertook a challenging expedition in Poland whilst completing his Explorer Belt which counted towards his Queens Scout Award.
Of course it was not only members of Southampton SSAGO that received the award, Nottingham's Christopher Pattullo had a very enjoyable day at Windsor Castle to collect his award and some of you may have been up early enough to hear his interview with BBC Essex Radio at 7am! Although it was a long day, getting to meet Bear Grylls and parade into the Quadrangle were highlights for Christopher who termed the day a great way to celebrate getting the award.
Our amazing Queen Scouts were not the only people out in force on Sunday, clubs and members up and down the country were at parades and services celebrating the importance of the patron Saint of Scouting. Keele SSAGO had a particularly important day attending the parade in Newcastle-under-Lyme - their first district event as a club! They even got a club flag made especially for the occasion.
Well done to all our members who have achieved awards within The Scout Association or Girlguiding this month, we love to know what you are all up to and to celebrate your successes so if you complete an award please let us know by contacting Melissa Roberts and James Frith either on Facebook or by email at 'success@ssago.org'.
Queen Scout Award recipients
| Name | Club |
| --- | --- |
| Kirsty Falcus | Lancaster |
| Christopher Pattullo | Nottingham |
| Henry Hick | Southampton |
| Oliver Bills | Southampton |
| Tom Candy | Southampton |