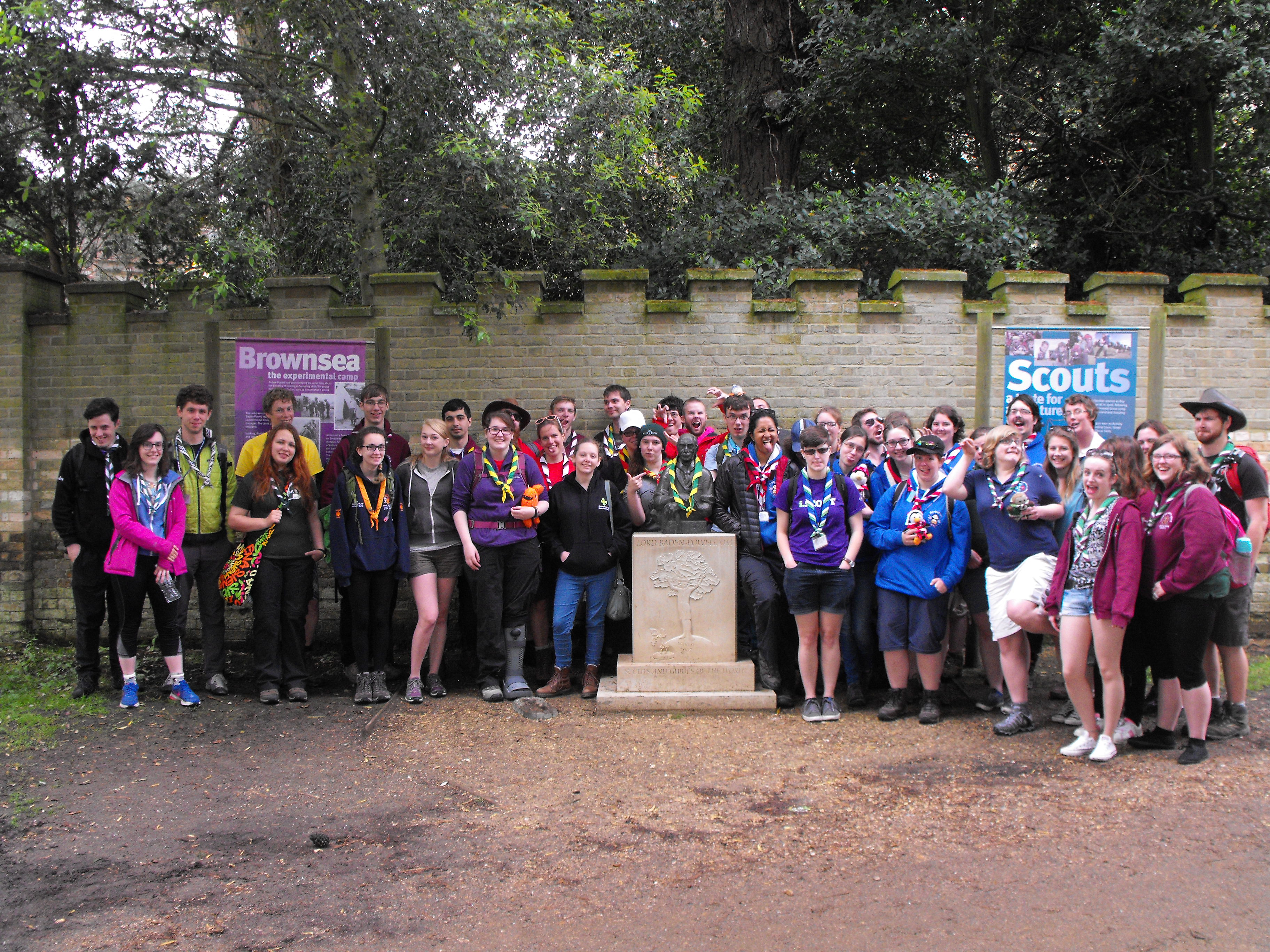 After much preparation and excitement, and perhaps unwisely only 2 days after our summer camp, it was time for Southampton SSAGO's Dino rally. There are three rallies during the year Autumn, Spring and Summer where all the SSAGO clubs around the country meet for a weekend of activities. Different clubs take it turns to run the rally and this summer it was Southampton's turn, holding it at Butchers Coppice in Bournemouth. Friday evening everyone began arriving and putting up their tents. Dinner was baked potato followed by doughnuts which were thoroughly enjoyed by everyone after the effort of putting tents up.
After dinner it was time for the first campfire with the old favourites together with some new songs which are always good to learn. Lloyd excelled himself leading a number of songs and we all questioned whether he would be able to talk at all the next day. And we still can't get our heads around that stupid inefiatia fingle fangle bird! But old favourits like quartermaster's stores and you'll never get to heaven were a lot simpler
Next day it was up for cooked breakfast and cereal. Although there was outrage caused by the mysteriously disappearing coffee, which was later located, to many people's relief. Whilst enjoying our breakfast we received the first copy of the bedrock bugle our new rally newspaper containing various tip bits from the weekend which was rather exciting.
Whilst those on the longer activities headed out for the day the rest of us got to enjoy the morning activities, things such as dinosaur tail stomp and the egg drop. Although there were many innovative and inventive designs for the egg drop there was of course the inevitable paper aeroplane attempt which, as always, went rather badly, after that is, the height of the drop was increased having realised that no egg would suffer any damage from the original height protected or not!
As it was a summer rally and it was rather warm there were the inevitable water activities such as water agility, in fact just the normal agility course with Josh and Julia squirting water at you! Josh was rather enjoying getting everyone soaked whilst being completely dry himself and thought he would take his water gun outside of the agility course to widen his target range, this however rather backfired on him when he inadvertently started a water fight and got a cup of squash and bucket of water thrown over his head!
Then it was time to collect lunch before heading to the afternoon activity which everyone then ate before even getting on the bus (it was pretty much lunchtime) which of course included the required turkey dinosaur. The afternoon activity is the one you choose when you sign up to rally and there were a number of different ones available including:
The New forest walk
Our train dropped us in the pretty village of Sway, where we began our walk. Following the tracks across the woodland and heathland that makes up the New Forest, we encountered all manner of wildlife from inquisitive osprey (we think) to cows obstructing the highway. The famous New Forest ponies were also available to see, as was the equally famous New Forest mud! A number of us found our toes getting suddenly and unexpectedly wet, particularly during the stream crossing, but spirits remained high throughout. Spirits were considerably dampened when we arrived at Brockenhurst station to discover that, in spite of our Olympic-standard racewalking along the so-called "Straight Path", we had missed our train and would have to wait for another. However, the group was relieved by the production of Pringles and other such foodstuffs to revive us. All in all, a good day's walking!
Splashdown
We took 17 people to Splashdown, where we spent a couple of hours enjoying everything from the Dragon's Lair ride to the lazy Mississippi Drifter, the highlight being when we all went on the flume ride together and ended up getting stuck halfway through which resulted in helpless fits of laughter
Bournemouth treasure hunt
Southampton SSAGO enjoys a good treasure hunt, or maybe they don't but either way a Southampton camp would be incomplete without one. With cryptic clues and so many bits of paper and questions you just don't know where to start they're certainly not an easy option. But once you've got all the bits in order and everyone know what they need to look out for they're always good fun and a great way to explore a new place. Everyone seemed to enjoy themselves, except when they were too lost or confused. We had a nice break for fudge in the middle and ended at the beach and joined up with those who'd been at the oceanarium.
The rest of the weekend
Other activities included a walk around Durdle Door, a trip to Brownsea Island to see the home of guiding and scouting, a trip to the dinosaur museum and a pub crawl.
The weather was brilliant all day which was good because we had a BBQ when we got back which all went smoothly apart from the unexpected issue of running short of salad! After this we worked off our dinner with a ceilidh, a rally tradition where it doesn't matter that no one can dance as the caller tells you what to do and everyone looks equally stupid! Pausing part way through, for dinosaur Eton mess and the judging of the costume competition (dinosaur themed of course). Next up it was campfire number 2, or if you'd had enough singing Jurassic park and popcorn. Random cookies appeared with the instructions they needed eating, as if we hadn't been feed well enough already! Then it was time for bed after the best and busiest day of rally.
Sunday morning was much the same ass Saturday, breakfast and rally newspaper followed by morning activities. However a surprise arrived halfway through morning activities when a bouncy castle turned up!
Finally it was time for sad things like packing up and the closing ceremony and our final turkey dinosaur with our pizza lunch. After a weekend of glorious weather, as if sensing the mood, the rain began just after the last tent was down. But fear not, we'll get to do it all again come November at the next SSAGO Rally, Space Rally!
Soon it was time to say farewell until next time...